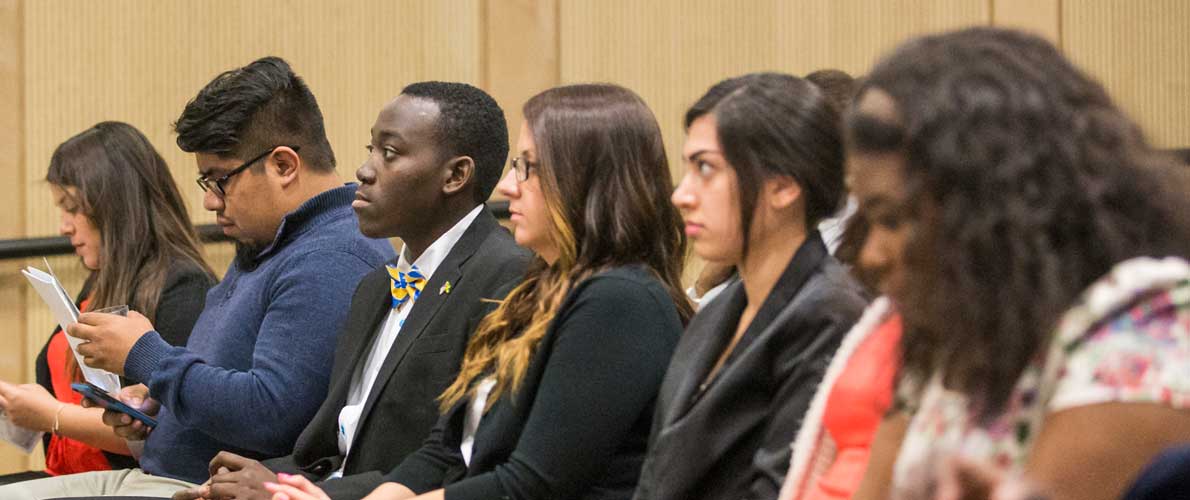 Meet Your UCOL 101 Instructor!
Main Content
Jaime Conley-Holt
Jaime Conley-Holt is originally from Du Quoin, Illinois.  After taking some college courses at Colorado State University and SIUC, she landed at the University of Illinois, Urbana-Champaign.  It was there were she decided to pursue psychology and graduated with a Bachelor of Science in the field.  More traveling pursued after graduation with a stint in Oahu, Hawaii as a Youth Counselor for the Marimed Foundation and then as a Photographer at Ravetta Photography in St. Louis, Missouri.  The Educational Psychology – Counselor Education program at SIUC brought her back to the area to pursue her master's degree.  During her studies, Jaime worked at the SIUC Career Services office as a Graduate Assistant and fell in love with career counseling.  After receiving her degree, she worked at Shawnee Community College as a Career/Transfer Advisor for their Trio program.  When an opening at her alma mater and former employer opened up, she jumped at the chance to come back to SIUC Career Services as a Career Development Coordinator where she supervises our graduate assistants and provides career counseling to undergraduate and graduate students.  Jaime is currently taking coursework through the Curriculum and Instruction department in Learning Systems Design and Technology, is MBTI Certified and a Nationally Certified Counselor (NCC).
Emily Craske
Hello All!  My name is Emily Craske and my daytime gig consists of being the Coordinator of Student Programs in the University Programming Office.  I graduated from SIU with my Bachelor of Science Degree in 2007 and a Masters in Business Administration in 2009.  I have a Golden Retriever named Bailey Grace who thinks she's a lap dog even though she weighs over 70lbs!  I am an Indy Car fanatic, true Chicago Cubs fan, and sugar cookie connoisseur.
Michelle Garrett
Hello!  My name is Michelle Garrett and I am super excited about teaching UCOL 101U!  SIU is a great place to begin your future and UCOL 101 is just the right first step in ensuring you start off on the right foot!I am a TRUE Saluki!!  Having earned both my bachelor's and master's degrees at SIU, the University is simply a part of who I am.  After working at a local community college for several years, I returned to SIU in 2004 as a career services specialist and now recruitment coordinator.  My job is wonderful!!  It allows me to help students with all types of career development issues while encouraging employers to HIRE SALUKIS!!My time and experiences at Southern Illinois University have created innumerable opportunities for me and I am anxious to help you begin your successful journey at SIU as well. 
So now that you know a little about me professionally, let me share a few random facts about myself:
I am a HUGE science fiction fan.  I simply cannot get enough Star Wars, Star Trek, etc.
The original Scooby Doo series is my favorite cartoon.
I love all musical genres, but I have a particular fondness for 1970's disco.
My favorite pastime is reading.  There is nothing better than losing myself in a good book…crime, suspense, science fiction, biographies, and even the occasional trashy novel.  I love it all!
I LOVE the St. Louis Cardinals and Yadier Molina is my favorite player.
I look forward to meeting each of you this fall!!  And finally, welcome to SIU!! 
Jason Hartz (bio coming soon)
Elyse Hiller
Elyse Hiller has worked as a Financial Aid Advisor at SIUC for the past 5½ years. She moved to Carbondale 30 years ago from Northbrook, IL to attend SIUC, and upon graduating she chose Carbondale for her home. Elyse is a double Alumna of SIUC with a Bachelor's Degree in Marketing and a Master's Degree in Higher Education – College Student Personnel. She has two beautiful daughters, one a junior at SIUC and the other a junior at Carbondale Community High School. Elyse is looking forward to teaching the University 101 course. She is eager to assist our incoming freshmen in adjusting to college life, as well as share with them the multitude of wonderful opportunities SIU has to offer.
Darla Huff
Darla Huff, from Baton Rouge, Louisiana, is an Academic Advisor in the College of Business. She received both her bachelor's degree in Sport Communication and M.B.A. from Mississippi State University. While completing her M.B.A., Huff worked as a graduate assistant doing academic advising for student-athletes. From that experience, she realized she wanted stay affiliated with a university. "I enjoy the atmosphere of college campuses and working with the students to make their experience enjoyable by offering them as much as possible". She is currently working on her Ph.D. in Educational Administration and Higher Education with an emphasis in the branding and marketing strategies of higher education institutions. Huff currently resides in Herrin, IL with her husband, Jonathan, and 2 dogs. 
Jean Kelley (bio coming soon)
Jeannie Killian (bio coming soon)
Kimberly Little
Kimberly Little has over 15 years' experience in higher education at both the community college and 4-year public university levels.   She is a proud academic advisor and has served as Interim Director of the Pre-Major Advisement Center.  Kim has taught first-year seminar courses for the past 7 years and is as an active member of various student-centered committees and groups.  She is a member of NACADA and ILACADA, and a lifetime member of the SIU Alumni Association.  She counts her favorite experiences at SIU as working with engaged students, families, and colleagues; faculty/instructors that are passionate about their disciplines; volunteerism; and seeing students develop and continue a love of life-long learning from the classroom and beyond.   Kim enjoys interior decorating; stained glass; music, game nights; reading; and spending time with family and friends.
Amber Manning
Amber Manning received her bachelors degree in Psychology and her Masters degree in Counselor Education with a specialization in couple and family therapy.  She is currently working on her doctorate in Educational Administration and Higher Education.  Her research interests are college student sexuality, sex education policy, first-year adjustment and transition, female student psychological development, and first-generation student motivation. Amber enjoys time with her fiancé and dog, Izzie in the outdoors.  Her favorite part of teaching UCOL 101 is seeing students develop and become invested in their education. 
Tamara McClain
Hello! My name is Tamara McClain and I am very excited to be teaching one of the U101 sections for the fall semester. My undergraduate and graduate course work was completed at Texas A&M University. There, I earned a B.A. in History and English and M.S. in Student Affairs Administration in Higher Education. Currently I work as a Hall Director for University Housing and enjoy the day-to-day interactions with students. So far I have enjoyed my time at SIU and look forward to all Southern Illinois has to offer. 
Zenetta McDaniel Coleman
Zenetta McDaniel Coleman is the Associate Director of the University Honors Program and is a two-time alumnus of SIU. She holds a BS in Speech Communication and a MS Ed in Workforce Education and Development. She has spent over 15 years working in higher education, specializing in areas of student development and mentoring. Her teaching and administrative talent has been applied in various university settings including Wheaton College (IL), Columbia College Chicago and Eastern Kentucky University.  She currently serves as co-advisor to Alpha Lambda Delta National Honor Society for First-Year Students, enjoys learning Latin dance and is the proud mother of one daughter, Sheridan.
Leah McSorley
Leah McSorley is an Education Coordinator in the Center for English as a Second Language (CESL) at Southern Illinois University Carbondale where she advises CESL students on academic, immigration, and cultural issues.  In addition to advising, Ms. McSorley has provided intercultural training to student service professionals across SIU's campus.  Ms. McSorley holds a B.A. in Communication Studies and a B.A. in Spanish from Edgewood College in Madison, Wisconsin as well as an M.A. degree in Educational Policy and Administration (specializing in Intercultural Education and Training) from the University of Minnesota – Twin Cities.  Ms. McSorley has worked as an advisor and mentor to U.S. American and international college students for over six years.  In addition to advising, Ms. McSorley enjoys learning new languages, traveling, and musical theatre.  Originally from Northeast Wisconsin, her favorite activities in Carbondale include enjoying the Campus Lake, eating Cuban food at Key West, and NOT shoveling in the winter. 
Dr. Dennis G. Nasco
Dr. Dennis G. Nasco joined the Southern Illinois University College of Business in 2006. Dr. Nasco brings a variety of real-world corporate Human Resource experience to the college. Dr. Nasco is also visiting faculty at the Grenoble Ecole de Management in Grenoble, France and the London School of Business and Finance in England. A native of Florida, Dr. Nasco earned his Doctorate degree from Southern Illinois University (He is a Saluki!), an MSHRM (MBA) from Purdue University and a Bachelor's of Science from the University of Florida. Dr. Nasco has two daughters, a passion for traveling and is the faculty advisor for the Tennis Club at Southern Illinois University.
William Phelps
William Phelps received a B.A. in English and Latin American Studies from Augustana College (IL) and an M.A. in Applied Linguistics/TESOL from the University of Illinois at Chicago. Bill has taught or tutored ESL/EFL since 1996 in a variety of settings including (but not limited to) high schools, two-year colleges, vocational colleges, universities, and adult education programs. Bill's professional interests include Composition Theory and Second Language Writing, Bilingualism, and CALL. Bill enjoys cooking, baking, and hiking. However, his true passion is baseball, and the Chicago Cubs are his team. Bill does not dance.
Josh Phillips
Josh Phillips is a PhD student in Speech Communication and currently completed his Graduate Certificate in Women, Gender, and Sexuality Studies. His academic interests include rhetoric, intercultural communication, gender violence, and poverty. In 2013, Josh hopes to have completed his dissertation, which will focus on the narratives of people entrapped in the cycle of poverty and homelessness.
In addition to teaching on SIU's campus, Josh also speaks on campuses throughout the United States in an effort to end gender violence in our communities. In 2010, he published his first book 1,800 Miles: Striving to End Sexual Violence, One Step at a Time, recounting stories from an advocacy walk he was a part of in 2008 that journeyed from Miami to Boston.


Josh is an avid reader as well as a volunteer firefighter with the Carbondale Township Fire Department.
Matt Purdy
Matt's experience includes teaching in the business program at Rend Lake College, working for a local software company in Carbondale, and working at Sprint's World Headquarters give him some real-world insight to bring to students, but we find his career as a boat builder to be the coolest thing since Al Gore invented the internet.
Sure his educational background with a BS in Marketing & his MBA (all from SIU – Matt's a second-generation Saluki!) help to qualify him for the position, but we are more interested in his passion for hockey (Matt has actually touched the Stanley Cup), his love for Nintendo Wii, his Canon dSLR, and Mazda Miata's.  
Matt works one-on-one with students on their resumes, interview skills, job search techniques and much more. When he's not meeting with students, he's usually helping get the word out about various employers who come to him needing assistance with their recruiting needs or speaking to a class or student organization about various career-oriented topics. He also works directly with social media efforts around the College of Business and is the face behind the Business Placement Center's Twitter account.
(picture coming soon)
Scott Rakow
Hello, my name is Scott Rakow and I am currently a graduate student in the Higher Education program here at SIU.  I received my Bachelor of Science degree in Management from Purdue University and have over 22 years of manager/owner experience in the hospitality industry operating restaurants, hotels and country clubs from coast to coast.  I have found the transition from hospitality to higher education to be a smooth one as I believe both are truly about people; those you serve and those you work alongside.  I am very proud to be a part of the SIU family and look forward to working with our newest students while co-teaching UCOL 101 in the fall of 2012.
On a personal note, my interests include outdoor activities, sports, music, reading, travel, cooking (and eating!).  I am also the proud "papa" of a 9 month old English Mastiff named Maiden.
Lisa Russell
Lisa Russell has worked as an Office Administrator in the Department of Criminology and Criminal Justice for the past 3 1/2 years.  Prior to that, she was with the Environmental Studies Program for 9 years.  She is an alumni of SIU and holds an Masters degree in Business Administration.  She lives in Herrin and enjoys spending time with her family.  She has two children and three grandchildren.  A few of her hobbies include drawing, writing children's stories, traveling, and playing the guitar.  She has taught the Freshman Seminar course for the past three years and, each year, looks forward to getting to know the students and helping them achieve their academic success.
Kim Sanders
Kim Sanders is currently the Director at Southern Illinois University's Center for Rural Health and Social Service Development (CRHSSD).  The CRHSSD is one of SIU's research centers, whose mission is to strengthen rural health infrastructure and to promote opportunities for enhancing health primarily in rural communities.  Kim has over 20 years of professional experience in various health-related fields with special interest areas of mental health care delivery, rural health disparities and health care economics.  She has a Master's in Public Health, as well as a Masters in Business Administration.  With Southern Illinois University Carbondale the last ten years, she has been involved in community needs assessments, program evaluation, entrepreneurship promotion, economic and health-related research, workforce development issues, and community connectivity strategies.  She is a lifelong resident of southern Illinois, an avid reader and the mother of two sons, ages 17 and 25.
Elizabeth Scally
Elizabeth Scally has been at SIU for more than 20 years, working at various positions within University Housing. Currently she is working with Graduate and Family Services. Beth has a Bachelor of Science Degree from Eastern Michigan University and a Masters Degree from Southern Illinois University Carbondale.
Passionate about Saluki sports you can find her at most sporting events. Hobbies include photography, sports, reading and music. Beth and her husband Mark have two children, Kristy and Sean and when not at Saluki events, they can usually be found at softball, baseball and basketball games in and around Carbondale
(photo coming soon)
Samantha Schmidgall
Hello, my name is Samantha Schmidgall and I have been at SIU for going on 7 years now and work in the Financial Aid Office.  I have my Masters in Education from SIU as well as my bachelors.  I volunteer my time working with the Red Cross Disaster Unit and the Ladies Auxiliary Veterans of Foreign Wars as a Dept Officer—both of these keep me extremely busy.  I have a new kitten named—well "Kitty" for lack of a better name and love to scrapbook when I find the time.
Justin Schuch
Justin Schuch is a Hall Director for University Housing, working with the West Campus residence halls. Justin also advises the Residence Hall Association on campus and enjoying working and developing student leadership opportunities. Justin has a B.A. in Communication; Rhetoric and Public Advocacy, with a minor in Music, and a M.S. in College Student Affairs from Eastern Illinois University. Filling free time with traveling and thrift shopping, Justin has enjoyed being a part of the SIU community.
Gena Stack
My name is Gena Stack and I am the Coordinator of Conference Services for University Housing. Before I held this position, I was a Hall Director at University Hall. I got my Bachelor's and Master's degrees from Bradley University in Peoria, IL. I grew up in Belleville, IL, which is just on this side of the Mississippi River from St. Louis. This will be my 4th semester teaching UCOL 101 (used to be University 101) and I'm really excited about it. I love getting to meet new students and help them adjust to college life. It's a great experience and I learn so much every year. Outside of work, I love doing things outdoors in Carbondale. Giant City state park and Garden of the Gods are so beautiful, and I love to take my dog hiking out there. I also love to read, watch movies, and just hang out with friends. Carbondale has great restaurants, and I'm always up for a lunch or dinner out at Thai Taste, El Bajio, or one of the other great places in town.
Tabitha Stone
Tabitha Stone, Chief Academic Officer, has been a long-time member of the College of Business' advising staff and is deeply committed to serving the needs of faculty and students and in advancing the goals of the College and University.  Tabitha is a two-degree graduate of SIU, earning her bachelor's degree in Psychology and a Master of Business Administration degree. She and her husband, Steve Stone, along with their five children, enjoy the natural beauty of southern Illinois.
Karen Sullivan
Hello! My name is Karen Sullivan and I have been teaching at SIUC in the Department of Aviation Technologies since 2005.  Before I came to SIUC, I worked as a helicopter mechanic for Air EvacLifeteam in Southern Missouri and Illinois.  During my tenure track here at SIUC my research has been focused on instructional design methods in the field of aviation technology.  In the classroom, I like to keep the atmosphere light.  My outlook is that having fun in class is just as important as learning.  In my personal life, I am a mother of two young boys.  We are an outside family and spend most of our free time playing baseball.  I am also an avid motorcycle rider and try to spend as much time as I can on the road.  I look forward to meeting my new students every year and trying to make each semester better than the last!
(photo coming soon)
Michelle Sullivan
Welcome to the College of Agricultural Sciences!  My name is Michelle Sullivan and I work in the College as Coordinator of Recruitment, Retention and Placement.  With this position, I will work with you during your entire time here with us.  I am a graduate of our college, receiving my Masters degree in Agribusiness Economics.  I love everything about agriculture, from production to nutrition, and can't wait to begin another year!
Chad Trisler
Hello, my name is Chad Trisler and in addition to being the facilitator for our section of UCOL 101, I am the Director of Student Rights and Responsibilities here at SIU.  I grew up in a small town in Eastern Oregon and did my undergraduate and graduate work at the University of Pittsburgh in Pennsylvania.  Before joining the Saluki family last year, I worked at Boise State University in the Housing Department.  I look forward to getting to know you all in the year to come.
Sarah VanVooren
Originally from Marion, IL, Sarah VanVooren is the current Assistant Director of Student Center. She is a graduate of Southern Illinois University with a Bachelor of Arts in History and a Master's of Science in College Student Personnel.  Currently, she is the campus advisor for Sigma Kappa Sorority, the Men's Lacrosse Team and the Dance-a-thon Committee. Sarah previously worked at Purdue University as the Assistant Director of Operations for the Division of Recreational Sports. In her free time, she likes reading, listening to music, doing yoga and spending time with friends and family.
Bethany Wendler
Hello, my name is Bethany Wendler and I am originally from St. Louis Missouri where I grew up with my older brother Andy, and was raised by my parents, Rich and Cindy.  I went to Central Missouri State University, which is now known as The University of Central Missouri.  I received a Bachelor's of Fine Arts, emphasis in Commercial Art and Graphic Design, but was involved in the university's programming board called the Campus Activities Board.  My involvement with that organization inspired me to pursue my Master in Higher Education from Appalachian State University.  After graduating from App State I went to work at the College of Charleston where I spent five years working at the Assistant Director for Student Life, advising the programming board and student government.  I have been at Southern Illinois University since August 2011 serving as the Coordinator for Student Involvement and Leadership Development.  I currently advise both the Undergraduate Student Government, and Graduate Professional Student Council.  My office also helps coordinate several leadership programs for the campus and supports the 430+ Registered Student Organizations on campus. 
I have been married to my best friend for two years now; we both enjoy spending time outside, hiking and camping.  In my spare time I also enjoy cooking and running.
Carol Westerman-Jones
Carol Westerman-Jones has been the Academic Advisor for the Department of Cinema & Photography for the past 15 years.  As a student she transferred to SIU to study painting after spending two years attending a community college in Belleville, IL.  Carol has earned two degrees from SIUC, a Bachelor of Fine Arts degree in Painting and Master of Fine Arts degree in Photography.  During her undergraduate years at SIUC she was a student worker in the Transfer Student Services Office in Admissions & Records.  After finishing her BFA she held a couple of different positions in the Admissions & Records Office, while completing her MFA.  Her interests are the natural environment, hiking, cycling, running, fine-art photography, painting and cats(not in any particular order).
Jack Young
Hi.  My name is Jack Young, I am the Academic Adviser for the School of Journalism at SIU and I teach the UCOL 101 discussion section and History of the Media (JRNL 400) for the School. 
I am from a pretty tiny town in northern Illinois of about 1000 people originally.  The enrollment of my high school when I graduated was a whopping 87...yep, the WHOLE SCHOOL.  I went to a community college after high school and then transferred to Illinois State University where I earned a BS in History.  I then spent a few years working before deciding to return to school for graduate work at Southern Illinois University.  While in Carbondale I earned a MA in History and in Higher Education.  I joined the faculty and staff in the School of Journalism 8 years ago and really enjoy my job.
I enjoy being outside, hiking and working around the yard, playing a little guitar and being with my family.  Outside of that I am a pretty boring guy who loves being able to get paid to talk to interesting people all day.  I can always be found in the School of Journalism main office…just ask for Jack.
Keri Young
Before returning to her alma mater to become Director of Career Services in October 2011, Keri Young was the Assistant Director of Recruitment Operations at Texas Christian University's Neeley School of Business where she was responsible for cultivating employer relationships, expanding employment opportunities for MBA students/alumni, and facilitating employer participation. Keri also has worked at Southeast Missouri State University as their Experiential Learning Coordinator where she developed and managed the internship process for both undergraduate and graduate students. Keri's credentials include completing NACE's Management Leadership Institute, being actively involved in several professional associations including the National Association of Colleges and Employers (NACE) and the MBA Career Services Council (MBACSC) and presenting at numerous regional and national conferences. Keri holds both her B.S in Hotel, Restaurant and Travel Administration and M.S Ed in Workforce Education and Development with an emphasis in  from Southern Illinois University Carbondale and as Director, oversees budgeting, personnel and strategic planning for SIU Carbondale Career Services. Keri's passion is working with students to help them become more proactive in their own career development because "at the end of this journey, no one else but you will live the life you have chosen for yourself."
Personal Info: Mother of 2, a daughter and a son both attending Carbondale Middle School. Enjoys playing golf, watching movies, just began taking graduate courses to pursue a PhD in Higher Education Administration.