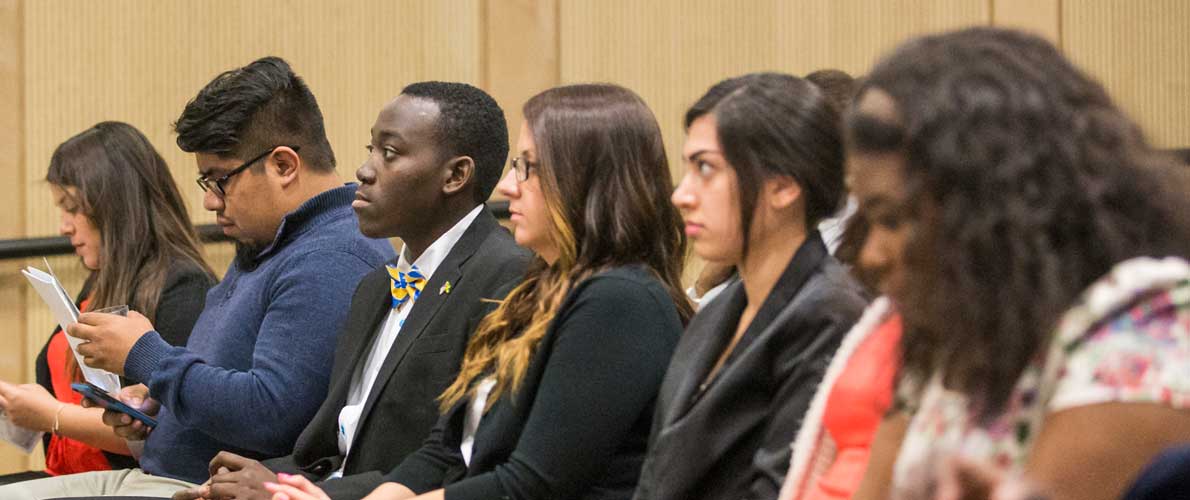 Meet Your UCOL 101 Instructor!
Main Content
Donald Castle 
Donald Castle is Associate Director of  the Student Center. He is originally from Elgin, Illinois and has a bachelor's degree in music from Illinois State University and a master's degree in Educational Administration from Western Illinois University. He has been involved in programming events on campus for the past 25 years including Sunset Concerts, Homecoming and Springfest. He currently manages a wide variety of departments and programs including the Student Programming Council, WIDB Student Run Radio, Student Center Bowling and Billiards, Student Center Craft Shop, Student Center Marketing and Graphics and Student Center Special Programs. He loves working with students from SIU who complete their degrees and then go on to great careers in the entertainment industry.
Sandra Charlson
Hi! I'm Sandra Charlson and I have taught Art History at SIUC since January of 1989, focusing on Native American and African cultures. I have a new class called Common Threads: The History of Fiber Arts which I absolutely love teaching! Things I like to do most: spend time with my family –my husband and I have two daughters, both seniors this year – one in high school and one in college. I also like to spend time with friends (potlucks, parties and Sunset Concerts!) and working with my church youth group. Among my hobbies: cooking (I like to try out new recipes), sewing, making stuff, gardening, raising chickens and bicycling. I just finished participated in a 400 mile, 7 day bike ride across my beloved home state of Iowa in July! This will be my third year of teaching UCOL and I am looking forward to it; I wish I'd had a course like this when I was a freshman.
Nelly Jane Chávez  
Hi! My name is Nelly Jane Chávez I am very excited to have the opportunity to teach UCOL 101 class this coming fall. I am a proud double alumnus of Texas State University- San Marcos. My undergraduate degree is in Spanish and Business. My masters is in Student Affairs in Higher Education. Currently I am serving as the Hall Director for Wall & Grand for this coming year.  I have officially completed my first year at SIU and I am excited to see what my second year brings.
Emily Craske 
Hello All!  My name is Emily Craske and I am the Coordinator of Student Programs in the University Programming Office.  My daytime gig consists of advising an awesome group of student leaders which make up the Student Programming Council.  I graduated from SIU with my Bachelor of Science Degree in 2007, a Masters in Business Administration in 2009, and I am currently working on my doctorate in Educational Administration and Higher Education.  As you can see, I truly bleed Saluki Maroon.  I am an Indy Car fanatic, true Chicago Cubs fan, and sugar cookie connoisseur.
Kelly Cummins
Kelly Cummins currently serves as the Director of Technology Services in the Northwest Annex. Kelly's main purpose of instructing UCOL 101 is "To help students be successful at SIU, from day one." Having received a Bachelor's Degree in Information Systems and a Master's in Business Administration, Kelly is a "computer nerd who can communicate". A former mascot of Saint Cloud State University in Minnesota, Kelly is an extroverted individual who likes to travel and be outdoors. You can often find Kelly at the Rec Center, playing tennis or roller hockey, or hiking in Giant City State Park.
Walter Davis
My name is Walter A. Davis III and I was born in Orlando Florida but have lived in Carbondale, IL most of my life. I Graduated from John A. Logan Community College in 2002 with my Associate in Arts. I then transferred to SIU and graduated in 2004 with my Bachelor of Science and then graduated in 2008 with a Master of Science in Education. I worked two jobs, raised a family and went to school all at the same time. I'm currently working for Center for Academic Success as an Instructor and Academic Advisor for new incoming freshman students. I enjoy fishing, reading and teaching. I love given the opportunity to empower young minds to help them believe that they have the power to be great and be successful. And all that power is within inside of them. My goal is to inspire young people to take advantage of the opportunities and the doors that open around them and to be ready to walk in, when those doors open and opportunities come.
JP Dunn 
Hello! My name is JP Dunn I am the Learning Management System (SIU Online) Administrator at SIU. I came to Carbondale after earning an Associate of Science Degree in Electronics Technology at Kaskaskia College to compete a Bachelor of Science Degree in Electronics Management. When I finished, I decided to stay a while longer and earned a Master of Science Degree in Computer Based Education (now called Instructional Technology.) I left the University and worked as a Systems Engineer for an Apple Education dealer and taught computer classes at John A. Logan College. I have now been back at SIU in the Center for Teaching Excellence for the past 18 years and really enjoy my job and the people I work with. I am excited to meet you and help you begin this journey.
Shayla Duran
My name is Shayla Duran and I am one of the academic advisors in Exploratory Student Advisement. I have served in this capacity for twelve years. Since family is extremely important to me, I spend most of my free time with my grandchildren or visiting close friends in St. Louis. I also enjoy reading as a means of relaxation and love traveling.
Alec Eshelman 
Hello! My name is Alec Eshelman. I recently received my Master's in Counseling Psychology from SIU and am now working toward a PhD in the same area. I'm very interested in careers and vocational psychology and enjoy doing research in those areas. I moved to Carbondale from Grand Rapids, Michigan, two years ago with my wife, Kate, and our dog, Reggie. I love teaching and working at the Counseling Center here at SIU, but when I'm not doing those things, I try to find time for woodworking at SIU's wood shop, hiking, and enjoying the local wineries. Ask about any of these things if you want to get me off track!
Kate Fishman 
Kate Fishman is a second-year student in the Counseling Psychology program. Originally from Pittsburgh, PA, she graduated from Chatham University in 2011 with a B.A. in Psychology and Women's Studies. Kate's research interests include the role of friendship and other peer relationships in young adults' lives, cultural representations of the female body and its implications in identity development, and humanistic counseling.
Martinique Free  
Martinique received her bachelor's degree in Lab Animal Science from North Carolina A&T State University and a Masters of Public Health with a specialization in Communicable Diseases and Behavioral Health Science from the University of Pittsburgh-GSPH.  She is currently working on her doctorate in Health Education at Southern Illinois University.  Her research interests include: reproductive health disparities, women's health among minority women, social capital and healthcare needs of disadvantaged youth, and the intersection of sexuality and culture.  Martinique enjoys experimenting in the kitchen, traveling, and mentoring students as they strive to reach short and long term goals through strategic planning which incorporates their life's passions with their innate talents and potential. 
William H. Freivogel
William H. Freivogel, director of the Journalism School at Southern Illinois University Carbondale, worked for the St. Louis Post-Dispatch for 34 years. He was assistant Washington Bureau Chief and deputy editorial editor.

Editorials about civil liberties abuses were a finalist for the Pulitzer Prize in 2002. He won the Sigma Delta Chi Distinguished Service Medal, ABA Silver Gavel and Benjamin Franklin, IRE, Sidney Hillman and Washington Correspondence awards. He graduated from Stanford University and Washington University Law School.
Brian Gallagher 
Brian Gallagher is a Hall Director in Schneider.  This is his third year working at SIU.  Brian has a Master's degree in Higher Education and Student affairs & an additional Master's degree in Teaching.  When not working, Brian enjoys photography and cooking.
Larry Greene Jr. 
Larry Greene Jr. is a transfer student from St. Louis Community College at Florissant Valley. After graduating with his Associates of Arts degree in 2010, he transferred to Southern Illinois University Carbondale. As an undergraduate student his experience consist of mentorship, performance, and research. He has been a member of the Student Support Services and McNair Scholars Program. He has worked as a Tutor Counselor for the Center for Academic Success as well as the Upward Bound program. His performance experience on campus include OOPS entertainment and Africana Theater Lab where he currently holds the position of President. During the summer of 2012 he was afforded the experience of traveling abroad as the lead actor in the play titled Home by Samm Art Williams. On this tour he was able to travel West Africa and UK. His passion lies with giving students access to opportunity through education, his experience, and empowerment. Larry Greene Jr. is very excited to continue his journey as a motivator and educator through his position of Instructor for Exploratory Student Advisement.
Renada Greer
Renada Greer is the Director of TRiO/Student Support Services at Southern Illinois University Carbondale.  Her responsibilities include grant management, staff supervision, fiscal budgeting, financial reporting, and planning and coordinating comprehensive academic support services.  Renada has a B.S. in Business and Administration and Finance and an M.S.Ed in Workforce Education and Development both earned at SIUC.  Currently she is finishing her Ph.D. in Education Administration in Higher Education.
Donna Goodin
Donna Goodin currently works as the Assistive Technology Coordinator at Disability Support Services, where she supports disabled students who use adaptive technology in their classes. Prior to moving to Carbondale in summer of 2012, she taught Spanish language and literature for nearly 20 years, specializing in early-modern women writers. She holds Master's degrees in Spanish and in counseling, and a Ph.D. in Hispanic Cultural Studies from Michigan State University. In her free time, Donna enjoys spending time with friends and family, playing the harp or the guitar, or just listening to music, travelling and reading. So far her travels have taken her to Mexico, Spain, Italy, Ireland and England. She lives with her husband and one very spoiled Maine Coon Cat. Donna is excited about returning to the classroom, and is looking forward to meeting all of you this fall.
Sam Goodin 
Hi, my name is Sam Goodin. I moved to Carbondale so long ago that my grade school, junior high school and high school are all gone. I can remember the war protests, Old Main burning and Halloween Celebrations, not the bad ones. I received my Bachelor's and Master's degrees from SIU. After finishing my graduate work, I worked at the University of North Dakota, Indiana University, California Sate University in Los Angeles and the last twenty years at the University of Michigan. I returned to SIU last summer to direct the Disability Support Services Office. I enjoy taking my boat out on the lakes, music at the wineries, the summer concert series and time spent with friends and family.
Adrienne Gulley
Adrienne M. Gulley joined the Center for Academic Success in 2011 and is currently a Academic Advisor for University College.  Adrienne enjoys being in a position where she is able to help and service students. "I have a task to help students realize what they need to succeed they already have; it is just a matter of releasing it into the atmosphere.  As a mentor to the students I service, I equip them to recognize the contribution they have to offer society."  Adrienne received her Bachelor of Arts degree in English and a Master of Science in Agricultural Communications with a specialization in Leadership, both from Southern Illinois University Carbondale.  Her ultimate goal is to live overseas where she can lead in the development and implementation of the improvement of underprivileged neighborhoods and communities.  Adrienne most enjoys spending quality time with her children Taylor and Donavyn, attending church and reading.
Bryan Harrison 
I am originally from Rushville, IL and have been involved in aviation since 1999. I am an Assistant Professor in Aviation Management and Flight and an experienced flight instructor with over 2500 hours of flight instruction given to students pursuing their private, instrument, commercial, and instructor certificates. I have master's degrees in both Workforce Education and Business Administration and am currently pursuing a doctoral degree in Workforce Education. My research interests include: student success factors, transition to aircraft technology, and curriculum development. I was a co-developer of the aviation specific version of the University College course, UCOL 101Z. I look forward to meeting and working with you this semester.
Jason Hartz
I am originally from Winterset, Iowa; the town of covered bridges.  I was the first from my family to attend college and felt overwhelmed by the very idea of going to college.  Despite my initial anxiety, going to college was the best four years of my life.  I did my undergraduate at Iowa State University and earned a Bachelor of Science in Meteorology.  Next, I attended graduate school at Purdue University and earned my Masters of Science in Mathematics. 
For the last fifteen years, I have worked in higher education in different capacities.  I have worked in academic support programs, recruitment and retention, academic advisor and college instructor.  I am currently an academic advisor in the University College and primarily advise student in Engineering, Science and Agriculture.  In addition, I have taught the University College course for the last two years. 
Elyse Hiller
My name is Elyse Hiller and I work in the Financial Aid Office as the Coordinator of Compliance, Training and Outreach.  I received my Bachelor's degree in Marketing and my Masters degree in Higher Education, both from Southern Illinois University.  I am originally from Northbrook, Illinois and a true Cubs fan.  I love teaching University 101 to help incoming freshmen adjust to college life, as well as share the multitude of wonderful opportunities SIU has to offer.
Katrina James
My undergraduate degree is a Bachelor of Science in Paralegal Studies from SIUC.  I worked for Waubonsee Community College in their TRiO/Student Support Services program as an Academic Support Specialist.  From there I moved on to DeVry University as an Academic Advisor.  Knowing I would need to obtain a Master's degree in order to obtain upward mobility, I decided to return to school.  I returned to SIUC and enrolled in the Educational Administration/Higher Education Program with a focus on College Student Personnel.  I earned my Master's this past May and am enrolling in the Educational Administration PhD program this Fall.  I reside in Carbondale with my husband, my oldest son, who is enlisting in the Airforce, my twin son and daughter, who will be Sophomores at Carbondale Community High School, and my youngest son, who will be in the 5th grade and Unity Point.  Besides my family, my passion is to help students reach their fullest potential.
Kathleen Jones
Kathleen Jones' work a SIU includes teaching in Biology Applications, advising students, chairing the student progress committee, and serving on various other committees. She has been married 29 years to Steve and is a proud mother of Michael and Mary, residing in Herrin for over 20 years.  She enjoys reading, working jigsaw puzzles, directing my church choir, and spending time with family and friends.
Jean Kelley  
Jeannie Killian 
Hello. My appellation is Dr. Jeannie Killian, but my students call me Dr. K.  A fact about you may not know is that I am 53 Cheetos tall. More importantly, I have had the privilege of teaching almost 30 UCOL 101 classes. And each fall semester I tell them this story. There once was a person who discovered a butterfly struggling as hard as it could to escape its cocoon through a tiny opening at the top of the cocoon. She got worried when it stopped and seemed to give up after making no progress. She was sure the butterfly wouldn't make it out without help.  So, she enlarged the hole.  On its next try, the butterfly wriggled out easily. But the young woman's joy turned to sadness when she saw its wings were shriveled and useless. It could not soar. It could only crawl around unprotected upon the ground. Her well-intentioned intervention had interrupted a natural process. Forcing the butterfly to squeeze though a small opening is Nature's way of assuring that blood from the butterfly's body is pushed into the wings. By making it easier, she deprived the butterfly of strong wings.  You're a butterfly working to get out of your cocoon.  You come to SIU and there will be struggling. But, as your teacher, I am not going to enlarge the hole for you.  If I did, it wouldn't be helping you, the student.  'Hard' is important if you want to spread your wings and be able to fly. I want you to know that I will be standing right beside you as you struggle through this cocoon wrapped maze of higher education. I will continually and consistently support you along the way, and I will always care about you in your process of achieving academic success. Former students have told me they could even hear my voice of encouragement in their sleep. And, when you emerge in four years with that degree, I will be there with a watchful eye as you 'fly' away from our campus cocoon, a successful graduate, a Saluki alum, and a good world citizen.
Michelle Kinney
Michelle Kinney is a 2nd year Hall Director at SIU in Mae Smith Hall.  She has a Master's Degree in College Student Personnel from Arkansas Tech University and an Undergraduate Degree in Social Work from Western Illinois University.  Michelle has enjoyed her time at SIU and enjoys being a Saluki.  She is extremely excited to have another way to work with incoming freshman students outside of the Residence Halls. Michelle enjoys getting involved outside of the SIU community as well and is currently serving on a Regional Committee for Housing Professionals.  GOOOOO Dawgs!
Kevin Krongos
Kevin M. Krongos grew up with aviation and spent over 20 years working in the industry. He has worked as an Airport Operations Specialist, Heavy Equipment/Diesel Mechanic, Flight Instructor, Airline Pilot, and Charter Pilot. Now in his 8th year working for SIU in the Department of Aviation Management and Flight, he continues to pursue his passion and pass on his experiences to his students. Kevin has been selected as the Term Teacher of the Year in the Aviation Management and Flight Department three years in a row. Additionally, Kevin is a coach of the award winning Flying Salukis Precision Flight Team. In his spare time, Kevin enjoys motorcycle mechanics, music production, and aerospace engineering. Kevin has a passion to be the best instructor he can be and always puts his students before his own interests.
Aimee Lemrise
Welcome students!  My name is Aimee Lemrise; I am a first year academic advisor in University College.   I am a graduate of Southern Illinois University with a Bachelor of Science and Master of Science, both in Geography and Environmental Resources.  I have numerous hobbies and academic interests.  I love gardening, animals, being outdoors, staying active, and a have high reverence for nature.  I have studied and am a supporter of local and organic food systems.  My teaching approach for UCOL 101 will be to empower students so they learn how to navigate their academic future.  I will encourage community engagement in order for students to experience all that Southern Illinois has to offer.
Dr. Beverly Love  
Dr. Love is Assistant Professor of electronic media writing and electronic media performance in Radio, Television and Digital Media. Former teaching experiences include Bowie State University, Maryland and public schools in Texas and South Carolina. Former professional positions: SIUC Information Technology Manager, Outreach Coordinator, WSIU-TV & FM; College Information Services Director, Blackburn University, Carlinville, IL; Media Specialist, Prairie View A&M University, Texas; and WSOC-TV-9 Media Assistant, Charlotte, NC. Acting and storytelling interests enhance Beverly's love for teaching. She has performed various acting roles, worked as an on-air personality, and spun stories for audiences in SC, NC, TX, IL and MD. 
Amber Manning-Ouellette       
Amber Manning-Ouellette received her bachelors degree in Psychology and her Masters degree in Counselor Education with a specialization in couple and family therapy.  She is currently working on her doctorate in Educational Administration and Higher Education.  Her research interests are college student sexuality, sex education policy, first-year adjustment and transition, female student psychological development, and first-generation student motivation. Amber enjoys time with her husband and dogs, Izzie and Grayson in the outdoors.  Her favorite part of teaching UCOL 101 is seeing students develop and become invested in their education. 
Kristopher Marshall
Kristopher Marshall is originally from Peoria, IL.  He earned his Bachelor of Science in Management in 2008 and in 2011 a Master of Science in Education, both degrees from Southern Illinois University.  He currently works in the Center for Academic Success as a developmental skills training specialist.  He is a small business owner in Carbondale and his interests include football, fishing, basketball and traveling.
Dr. James Mathias
James Mathias is an Associate Professor in the Mechanical Engineering and Energy Processes Department. He grew up in southern Minnesota and completed his bachelor's and master's degrees at Brigham Young University and his Ph.D. at The Ohio State University all in mechanical engineering. He is a licensed engineer in the state of Illinois and worked for two years after his schooling at a research company before coming to SIU. He performs research involving heat exchangers, fluid dynamics, thermodynamics, and energy conservation and many times works with undergraduate students, senior design students, and graduate students. For hobbies he enjoys outdoor activities such as camping and hiking as well as tennis.
Patricia Matthews
I am a recipient of two degrees from Southern Illinois University which are a Master of Science in Rehabilitation Administration –Job Placement and Bachelor of Science in Child Development (Infant Specialization).  I have been employed as an academic advisor for 25 years.
Brittany McElroy
Welcome to the Saluki Family! I am a First Year and Exploratory Student Advisor in University College.  I advise the Chancellor Scholar's and those interested in a University Studies degree. I enjoy being able to mentor the new students through this exciting process and help them discover all that SIU Carbondale has to offer. I encourage students to ask questions, study hard, attend all classes, be familiar with campus policies, get involved in campus activities, volunteer, study abroad, and enjoy your university experience.
While I was an undergraduate student at McKendree University, I was an active member in University Housing and Undergraduate Student Government (USG). For three years, I worked as a resident assistant in University Housing, assisting students on move-in day, understanding the college process, and helping them transition.  In addition, I was the Vice President of USG working towards the planning, budgeting and implementation of creating new events and programs on campus.  With these experiences, I knew I wanted to help incoming students and family members throughout the college transition.
I am the proud mother of a four year old daughter named Chesney.  She is the love of my life!  We enjoy jumping in muddy puddles, riding bikes, blowing bubbles, eating cheese and playing Candy Land.   I also enjoy a good cup of coffee, spending time with friends, grocery shopping, jogging, and baking.       
The best part of working in First Year and Exploratory Advisement is getting to know YOU and assisting you in developing your academic and career goals and giving you strategies for academic success and seeing you grow as a Saluki!! 
Michelle McLernon
Michelle McLernon has studied, played and worked at SIU for most of her career. She plans to complete her PhD in Health Education in December of 2013, to add to a B.S. degree in Spanish, MS in Community Development, and MSEd in Therapeutic Recreation. She has worked in multiple departments on campus, including: International Student Services, Rainbow's End, Recreation Center, Health Education Department, and the Center for Rural Health. She has worked at SIU Wellness and Health Promotion Services since 2000, and has most enjoyed the opportunity to work directly with students to assist them in anyway she can. She is looking forward to working with the UCOL 101 students and helping them adjust to this new and exciting stage of life -- the college experience! 
 Lori Merrill-Fink
Lori Merrill-Fink received an M.F.A in Acting/Directing and a B.F.A. in Musical Theater from the University of Arizona.  She is currently Director of the University Honors Program, and Associate Professor of Theater.  Lori has been honored for her outstanding teaching by both the College of Communication and Fine Arts, and by the Undergraduate Student Government.  She was the recipient of the Undergraduate Teaching Enhancement Award which led to her Certification as a Laban Movement Analyst at Columbia College.  Dedicated to challenge, and to a continued refinement of her teaching skills, Lori also pursued and was awarded certification in Authentic Movement at Naropa University.  As a professional singer/actress, director and choreographer, Lori has over 100 productions to her credit. Among her most prized accomplishments was being one of twenty actors chosen by the Kennedy Center to study acting with the late Uta Hagen.
Dr. Walter Metz  
Hi. My name is Walter Metz; I am the Chair of the Department of Cinema and Photography at SIUC, where I teach film, television, and theatre history, theory, and criticism. I hold two Bachelor's degrees, one in Materials Science and Engineering and the other in the Humanities, from the Massachusetts Institute of Technology. I have a Master's degree in Communication Studies from the University of Iowa, and a Ph.D. in Radio-Television-Film from the University of Texas at Austin. I am the author of three books: Engaging Film Criticism: Film History and Contemporary American Cinema (2004), Bewitched (2007), and Gilligan's Island (2012). Currently, I am hard at work on a new book about Dr. Seuss and Pixar Animation Studios.
Andy Morgan  
Andy has two SIU degrees and is concluding his third SIU degree, a Ph.D. in Educational Administration.  Currently, Andy is the Acting Associate Dean of Students and is also Coordinator of Fraternity & Sorority Life where he works with the 30 SIU fraternities and sororities, their advisors, alumni, national organizations, and governing councils.  His wife, Connie (a high school teacher), two daughters, and two dogs reside in Carbondale.  Andy enjoys spending time with his family, St. Louis Cardinal baseball, Saluki men's basketball and football, the outdoors, and volunteering throughout the community.  Andy has a wealth of knowledge on SIU and is excited to work with the new Salukis!
Dr. Dawn Null  
Hello there! My name is Dawn Null and I am a Registered Dietitian and Health Educator. I have over 18 years of experience that includes food distribution, menu and recipe development, nutrition throughout the lifecycle, directing and maintaining an accredited dietetics program, and teaching nutrition and food science at the collegiate level. Currently, I am a Wellness Coordinator at the Wellness Center and specialize in all topics stressing out college students. I am a three-degree graduate of SIU, most recently earning my Doctor of Philosophy degree in Health Education. In my free time, I enjoy boating with my kiddos, watching their sporting events, and taxiing them all over southern Illinois. I am also a Wipeout!-wannabe, a half marathon jogger, and a connoisseur of dark chocolate peanut M&Ms. I can be reached at the Wellness Center (536-4441) or at dawnnull@siu.edu. I look forward to meeting you in the fall!
Dr. Dennis G. Nasco
Dr. Dennis G. Nasco joined the Southern Illinois University College of Business in 2006. Dr. Nasco brings a variety of real-world corporate Human Resource experience to the college. Dr. Nasco is also visiting faculty at the Grenoble Ecole de Management in Grenoble, France and the London School of Business and Finance in England. A native of Florida, Dr. Nasco earned his Doctorate degree from Southern Illinois University (He is a Saluki!), an MSHRM (MBA) from Purdue University and a Bachelor's of Science from the University of Florida. Dr. Nasco has two daughters, a passion for traveling and is the faculty advisor for the Tennis Club at Southern Illinois University.
Dr. John W. Nicklow 
Dr. John W. Nicklow, Provost and Vice Chancellor for Academic Affairs, is Southern Illinois University's chief academic officer, with responsibility for managing the academic colleges and units and the policies and practices that affect the academic success of students at the University. He oversees undergraduate and graduate education, faculty affairs, including promotion and tenure, student life and well being, and enrollment management activities. Nicklow earned B.S. and M.S. degrees in Civil Engineering from Bucknell University in 1993. He was commissioned as an Environmental Engineering Officer with the U.S. Public Health Service and was responsible for design and construction of water supply and waste disposal facilities for American Indian communities. Nicklow later earned a Ph.D. in Civil Engineering from Arizona State University in 1998. He arrived at SIU in the same year as a faculty member in the College of Engineering and has since been recognized by the College, the American Society of Civil Engineers, and industry for his teaching and research. Following appointments as Acting Chair, Associate Dean, and Assistant Provost for Enrollment Management at SIU, he became Provost and Vice Chancellor in May 2011. Dr. Nicklow's research interests are focused on STEM education and on environmental and water resources systems optimization. He has published over 75 articles and is the author of four books. He is a registered professional engineer, a certified professional hydrologist, a Fellow of the American Society of Civil Engineers, and a Diplomat of the American Academy of Water Resources Engineers. Dr. Nicklow is passionate about student success and is dedicated to improving the quality of life for SIU students. He is a native of Berlin, Pennsylvania.
Lisa Peden
Welcome to SIU!  My name is Lisa Peden and I am the Director of the Center for Learning Support Services (tutoring center).  We live by the catchphrase, "Think. Learn. Change." in CLSS, and as a first year student, you will probably find that to be true as well.  You will be thinking creatively and reflectively.  You will learn so much more than the material in your courses. And you will change in ways you may not have dreamed.  This is what makes the college experience so fun, challenging, and rewarding!  Remember we are here to help you.  When I am not at SIU, I am at home with my cat, Cammie, and sewing or working on a stained glass project.  I also like to draw floor plans for my dream house.  I like all kinds of music, especially country, mountain, and opera (I know, that is quite eclectic!)  My favorite vacation spots are in the mountains of northern Georgia and western Carolinas. My favorite color is Saluki maroon...go, Southern, go!!!
Ryan Podolak
My name is Ryan Podolak. I am the Hall Director in Neely Hall. I graduated from Indiana State University in May 2011 with a Master of Science in Student Affairs and Higher Education. Prior to that, I attended Grand Valley State University in Grand Rapids, Michigan where received a Bachelor of Science. In between undergrad and grad school, I worked two part time jobs (Jimmy John's and at a small local retail store). Some interests of mine include higher education law, living-learning communities, and golf. I very much look forward to working with students and helping them prepare for life beyond SIU.
Roger Pugh 
I have completed my BA and my MA in English from SIUC, and am currently finishing my Ph.D in Special Education.  I have worked directly with students for over 15 years in the Achieve Program, a program of comprehensive supports for students with learning disabilities, ADHD, and other learning difficulties.  I have a great family, live in Metropolis, Illinois, play in a rock and roll band, and love working with my hands.  I am the Cubmaster for Pack 101 in Metropolis.  I am looking forward to a great semester with our freshman class!
Matt Purdy
Matt's experience includes teaching in the business program at Rend Lake College, working for a local software company in Carbondale, and working at Sprint's World Headquarters give him some real-world insight to bring to students, but we find his career as a boat builder to be the coolest thing since Al Gore invented the internet.
Sure his educational background with a BS in Marketing & his MBA (all from SIU – Matt's a second-generation Saluki!) help to qualify him for the position, but we are more interested in his passion for hockey (Matt has actually touched the Stanley Cup), his love for Nintendo Wii, his Canon dSLR, and Mazda Miata's.  
Matt works one-on-one with students on their resumes, interview skills, job search techniques and much more. When he's not meeting with students, he's usually helping get the word out about various employers who come to him needing assistance with their recruiting needs or speaking to a class or student organization about various career-oriented topics. He also works directly with social media efforts around the College of Business and is the face behind the Business Placement Center's Twitter account.
Ryan Reed
My name is Ryan Reed. I was originally born in Dolton, Illinois. After spending my earlier years in Dolton I relocated and spend the rest of my younger years in Homewood-Flossmoor High School. Having received my high school diploma from a two year in a row, blue ribbon award recipient high school, I was predisposed to learning the importance of education. My life's journey so far, has led me down paths of great success, recognition, and obstacles of failure. To this day, my ability to interact and understand various cultures and people, who may not share my culture or beliefs, brings me great satisfaction. Having originally attended SIUC beginning in 2008 as an undecided major I later was accepted into the college of Engineering.  Three years afterwards I decided to change my major from Engineering to Public Relations would later result in my ongoing achievements: being on the dean's list, having newspaper recognitions in several Carbondale media, and receiving several rewards and honors. Having graduated with my Bachelors of Science Degree, December 2012 with a major in Public Relations and a minor in Psychology; it was during this time that was able to experience the freedom that only success can provide. I am currently in my first year of my Educational Psychology Program. It is through my perseverance, my understanding that there is light at the end of the tunnel, my profound ability to teach and help support those around me through a simple conversation or event. 
Elizabeth Scally
Elizabeth Scally has been at SIU for more than 20 years, working at various positions within University Housing. Currently she is working with Graduate and Family Services. Beth has a Bachelor of Science Degree from Eastern Michigan University and a Masters Degree from Southern Illinois University Carbondale.
Passionate about Saluki sports you can find her at most sporting events. Hobbies include photography, sports, reading and music. Beth and her husband Mark have two children, Kristy and Sean and when not at Saluki events, they can usually be found at softball, baseball and basketball games in and around Carbondale
Samantha Schmidgall
Hello! I am Samantha Schmidgall and I work as a Financial Aid Advisor Coordinator in the Financial Aid Office.  Yes, you can ask me as many Financial Aid questions as you can—I am your inside helping hand! I am a two-degree Alumna from SIU earning both my Bachelor and Master degrees in Education.  I have one son and a cat- "Kitty"—yeah I couldn't come up with a name that fit her and as time went on kept calling her--well you know—"Kitty". I love the opportunity to help new students that teaching UCOL 101 offers. It has been a joy to watch student mature and embrace the college life. Bring your enthusiasm for school and learning because in our class we will share, think, create, and reflect. I am looking forward to meeting you!  I also volunteer a great deal of time to American Red Cross Disaster and also the Ladies Auxiliary to Veterans of Foreign Wars—where I serve as a Department Officer finding ways to serve our Veterans, community, and members.
Justin Schuch 
Justin Schuch serves as the Coordinator of Residential Leadership and Engagement for University Housing, working with the Residence Hall Association, Area Councils, and National Residence Hall Honorary. Justin works alongside University Housing staff to develop leadership opportunities and enjoys working with student leaders. Justin has a B.A. in Communication; Rhetoric and Public Advocacy, with a minor in Music, and a M.S. in College Student Affairs from Eastern Illinois University. Filling free time with traveling and thrift shopping, Justin has enjoyed being a part of the SIU community.
Donna Schumaier
Donna Schumaier holds an M.S.Ed. in Higher Education Organization and Administration and a B.A. in Psychology, both from SIUC. She is currently an Office Administrator in the Department of Curriculum and Instruction.
Dr. Katie Sermersheim 
Dr. Katie Sermersheim has served Southern Illinois University Carbondale in several capacities over her 16 year tenure.  Currently, as the Interim Dean of Students, she provides leadership and direction to the 15 units of the Dean of Students area. She received her Ph.D. in Education with an emphasis in Educational Administration from Southern Illinois University Carbondale. She has a M.S. in College Student Personnel from Western Illinois University, and a B.S. in Psychology and Sociology from the University of Southern Indiana.
 Dr. Katie, as she is called by the students, is a proud Saluki and attends many of the SIU Athletic events including men's & women's basketball, and football.   She loves animals and is a proud pet-parent!
Dr. Jon Shaffer 
Jon Shaffer serves SIU as the Director of University Housing. Dr. Shaffer brings over 20 years of knowledge and experience to our campus in University Housing and Student Affairs. He holds a Doctorate of Philosophy degree in Higher Education Leadership from Western Michigan University, a Master of Education in Student Personnel Administration/Counseling from James Madison University, and a Bachelor of Science in Psychology/Sociology from Northern Michigan University. Dr. Shaffer has served in additional roles throughout his career including advising students, teaching classes and advising student organizations as well as being active with leadership and professional development in professional associations. When not working, Dr. Shaffer is an avid outdoorsman who enjoys hiking, biking, golf, softball and ice hockey.
Gena Stack
My name is Gena Stack and I am the Coordinator of Conference Services for University Housing. Before I held this position, I was a Hall Director at University Hall. I got my Bachelor's and Master's degrees from Bradley University in Peoria, IL. I grew up in Belleville, IL, which is just on this side of the Mississippi River from St. Louis. This will be my 4th semester teaching UCOL 101 (used to be University 101) and I'm really excited about it. I love getting to meet new students and help them adjust to college life. It's a great experience and I learn so much every year. Outside of work, I love doing things outdoors in Carbondale. Giant City state park and Garden of the Gods are so beautiful, and I love to take my dog hiking out there. I also love to read, watch movies, and just hang out with friends. Carbondale has great restaurants, and I'm always up for a lunch or dinner out at Thai Taste, El Bajio, or one of the other great places in town.
Karen Stallman 
Karen Stallman joined SIU Carbondale as the Director of Continuing Education and Outreach in May of this year.  She holds two degrees from SIU Carbondale and worked 20 years for University of Illinois Extension.  She worked the past nine years for Southwestern Illinois College.
Casheena Stephens 
Casheena Stephens has earned a bachelorette degree in Biological Science and a master's degree in Workforce Education and Development (WED) specializing in "Adult Education" from SIUC. She is currently a Ph.D. candidate in WED and her academic interest includes women and work, work-life balance, adult learning, workforce diversity, and program/curriculum development.  As a graduate assistant, she serves as the Managing Editor of the Online Journal for Workforce Education and Development, assists with research projects and teaching assignments. Outside of the world of academia, she is a wife and mother of four beautiful children that love to keep her busy. Her hobbies include singing, dancing, traveling, and spending time with her friends and family. Casheena is passionate about teaching, mentoring students to reach their fullest potential, and is very excited to be your UCOL 101 Instructor this fall!
Lisa Stone
Lisa Stone has worked as an Office Administrator in the Department of Criminology and Criminal Justice for the past 3 1/2 years.  Prior to that, she was with the Environmental Studies Program for 9 years.  She is an alumni of SIU and holds an Masters degree in Business Administration.  She lives in Herrin and enjoys spending time with her family.  She has two children and three grandchildren.  A few of her hobbies include drawing, writing children's stories, traveling, and playing the guitar.  She has taught the Freshman Seminar course for the past three years and, each year, looks forward to getting to know the students and helping them achieve their academic success.
Tabitha Stone
Tabitha Stone, Chief Academic Officer, has been a long-time member of the College of Business' advising staff and is deeply committed to serving the needs of faculty and students and in advancing the goals of the College and University.  Tabitha is a two-degree graduate of SIU, earning her bachelor's degree in Psychology and a Master of Business Administration degree. She and her husband, Steve Stone, along with their five children, enjoy the natural beauty of southern Illinois.
Michelle Sullivan
Welcome to the College of Agricultural Sciences!  My name is Michelle Sullivan and I work in the College as Coordinator of Recruitment, Retention and Placement.  With this position, I will work with you during your entire time here with us.  I am a graduate of our college, receiving my Masters degree in Agribusiness Economics.  I love everything about agriculture, from production to nutrition, and can't wait to begin another year!
Sheri Sulser 
Hello! My name is Sheri Sulser and I am an Academic Advisor for the Exploratory Student Advisement Office in University College. My primary focus is working with Freshmen who are interested in majors in the College of Business. Prior to working as an Academic Advisor, I worked in the SIUC Undergraduate Admissions Office where I recruited Transfer Students. I received my A.A. and A.S. from Rend Lake College in 2004, followed by my B.A. in Psychology from SIUC in 2006 and my M.S. Ed. in School Counseling from SIUC in 2009. I grew up in Sesser, Illinois but fell in love with Carbondale when I moved here for college. I love reading and spending time outdoors with my Dachshund.  I'm very excited about teaching UCOL 101 and look forward to getting to know all of my students!
Chad Trisler
Hello, my name is Chad Trisler and in addition to being the facilitator for our section of UCOL 101, I am the Director of Student Rights and Responsibilities here at SIU.  I grew up in a small town in Eastern Oregon and did my undergraduate and graduate work at the University of Pittsburgh in Pennsylvania.  Before joining the Saluki family last year, I worked at Boise State University in the Housing Department.  I look forward to getting to know you all in the year to come.
Kaila Tyner
Welcome students!  My name is Kaila Tyner and I advise first year students for Exploratory Student Advisement at University College.  I am a two time graduate of SIU, earning a Bachelor of Science in Recreation and a Master of Science in Education.  I enjoy spending my free time with my family and my dogs.  I also enjoy SIU Athletics, the Chicago Cubs, the Chicago Bears, the Chicago Blackhawks, gardening, and outdoor recreation activities.  I truly value higher education and lifelong learning.  I appreciate the opportunity to teach UCOL 101 and hope each of you find this course to be a valuable, rewarding learning experience.  To prepare you for class, I'd like to share one of my favorite quotes:  "Tell me and I forget.  Teach me and I remember.  Involve me and I learn."—Benjamin Franklin
Sarah VanVooren
Originally from Marion, IL, Sarah VanVooren is the current Assistant Director of Student Center. She is a graduate of Southern Illinois University with a Bachelor of Arts in History and a Master's of Science in College Student Personnel.  Currently, she is the campus advisor for Sigma Kappa Sorority, the Men's Lacrosse Team and the Dance-a-thon Committee. Sarah previously worked at Purdue University as the Assistant Director of Operations for the Division of Recreational Sports. In her free time, she likes reading, listening to music, doing yoga and spending time with friends and family.
Troy Vaughn
Troy Vaughn is the Director of Recreational Sports and Services at Southern Illinois University Carbondale.  He holds BA from Franklin College in Journalism and a Master of Science from Indiana University in Recreational Sports Administration.  He is originally from Indianapolis, IN and has worked as a hall director in res life for several years and held positions at Hendrix College 1991, University of Evansville 1994-1996, Ball State University 1995-2005, Director at SE Missouri State 2005-August 2012.  He has worked in military recreation in the correctional recreational realm.  Troy is married with two children and lives in Cape Girardeau, MO.  He enjoys watching my kids play sports, his daughter plays softball, swims, and soccer, son plays football and throws in track, coaching girls' fast-pitch softball, chairing the Parks Board for the City of Cape Girardeau. He is also an avid racing fan , big Indianapolis Colts fan, and volunteers with Special Olympics annually.
Dr. Andy Wang  
Andy Ju An Wang is Professor and Dean of the College of Applied Sciences and Arts, Southern Illinois University, Carbondale. He obtained his BS, MS, and Ph.D. all in Computer Science and has been teaching at both undergraduate and graduate levels in various universities since 1982. In addition to being a widely published author of books and papers, he has been serving as Program Committee Chair and PC member for numerous international and national conferences, the founding Director of the Center for Information Security Education at his previous university, Program Evaluator for the Accreditation Board for Engineering and Technology, Editor for International Journal of Web Services Research, and he has been serving on the review committee or advisory board for many academic journals and professional conferences. Dr. Wang has broad interests in information systems security, information security model and metrics, component-oriented programming, and computer science education.
Dr. Wendy Weinhold  
My work as an administrator and a faculty member focuses on collaborations across communities of difference. During my time at SIU Carbondale, I have emphasized the value in finding creative solutions to improving the campus environment for all people. I am particularly proud of my efforts to expand the LGBTQ Resource Center's visibility and outreach to the campus and surrounding communities. For example, in the past two years the resource center has greatly expanded its Safe Zone Training program, and multiple trainings are held each month for public and invited audiences. I regularly collaborate with academic and administrative partners to present about gender, gender identity, and sexuality in classrooms, residence halls, and campus and community events. In my free time, I am mom to two cats, a dog, and a fish.
Alyssa Weisenstein
I am a Graduate Assistant at Disability Support Services and am working towards a Master's in Biology Education. I'm originally from Ohio, but graduated from Gardner-Webb University in North Carolina with a Bachelor's in American Sign Language. After graduation, I plan to work at an outdoor education center and teach environmental science.
Bethany Wendler
Hello, my name is Bethany Wendler and I am currently the Coordinator for Student Involvement and Leadership Development here at SIU. I received a Bachelor's of Fine Arts in Commercial Art and Graphic Design from University of Central Missouri and a Master's of Education in College Student Personnel from Appalachian State University. After graduating from App State I went to work at the College of Charleston where I spent five years working at the Assistant Director for Student Life, advising the programming board and student government. I have been at Southern since August 2011 and in addition to my regular duties, I advise both the Undergraduate Student Government, and Graduate Professional Student Council, Up til Dawn, and the Archery.
Veronica D. Williams  
Welcome Class of 2017! My name is Ms. Veronica D. Williams and I am the Director for Exploratory Student Advisement & First Year Advisement within University College. I received my Bachelors in Business Management from D'Youville College and Master's Degree in Student Personnel Administration from Buffalo State College. My passion is ensuring that students are able to receive the same educational opportunities that I was given in order to have a successful future.  My door is always open and ready for you to walk through it if you need help with anything. I, as well as my staff, are very excited for the start of the semester as well as excited that you're making this huge step toward the rest of your life at Southern Illinois University. 
Sally Wright
Sally Wright is currently the Associate Director of Programs at the Student Recreation Center. She holds a Bachelor's degree in Parks and Recreation from Slippery Rock University in Pennsylvania and a Master's degree from SIU in Recreation Administration. Her career has included working with public recreation, special olympics, and brain injury rehabilitation. She currently resides in Cobden with her husband, one dog and 3 cats. They have a son who is starting his senior year at SIU this Fall.
Jack Young 
Hi.  My name is Jack Young, I am the Academic Adviser for the School of Journalism at SIU and I teach the UCOL 101 discussion section and History of the Media (JRNL 400) for the School. 
I am from Wyanet, Illinois, a pretty tiny town in northern Illinois of about 1000 people.  I went to Illinois Valley Community College after high school and then transferred to Illinois State University where I earned a BS in History.  I then spent a few years working before deciding to return to school for graduate work at Southern Illinois University.  While in Carbondale I earned a MA in History and in Higher Education.  I joined the faculty and staff in the School of Journalism 9 years ago and really enjoy my job.
I enjoy being outside, hiking and working around the yard, playing a little guitar and being with my family.  Outside of that I am a pretty boring guy who loves being able to get paid to talk to interesting people all day.  I can always be found in the School of Journalism main office…just ask for Jack.